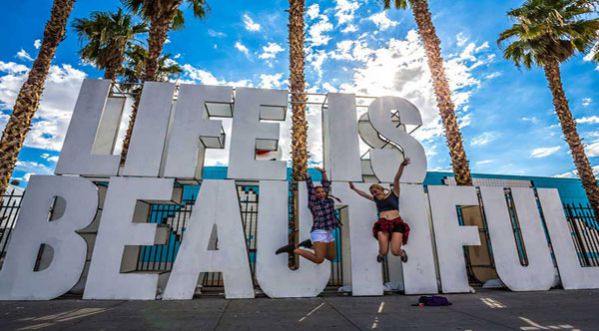 For the first time in the festival's history, Life is Beautiful Music & Art Festival has partnered with M Modern Gallery to bring "Crime on Canvas" exhibition to the three-day festival. Located inside The Western Hotel and Casino, Life is Beautiful ticketholders will have the exclusive opportunity to view and purchase original works and rare prints by more than 80 esteemed local, national and international artists.
"More than 90 percent of the pieces for this installment of Crime on Canvas will be new original works created specifically for this Life is Beautiful group art exhibition," said Jay Nailor, owner of M Modern Gallery and curator of the Crime on Canvas lineup. "We wanted to create an experience that showcases the influence music and art have on each other. By bringing in these incredible artists from all around the world, we're not only doing that, but we are exposing attendees to the only exhibition that will ever feature all of these artists at once"  
The theme of the exhibit will be dark and eerie, showcasing pieces created by each artist that fully-encompasses that genre. Artists showcasing their works include world famous illustrator, Shag, best known for creating album covers for Smash Mouth, Nancy Sinatra, Pixies and more; Brandon Boyd, lead vocalist for Multi-Platinum rock band Incubus; Shepard Fairey, known for his iconic Obama campaign poster; Frances Bean Cobain, daughter of Kurt Cobain and Courtney Love; Colin Christian, known for his latex costume worn by Miley Cyrus; Elisabeth Anisimow, nine-year-old artist featured on an upcoming episode of Nickelodeon's "All In With Cam Newton" and many more. Artists native to Las Vegas include Amy Sol, Casey Weldon, Gillean Clark, Juan Muniz, Giovanni Morales and Jerry Misko.  
The full artist lineup includes: Adam Labuen, Adam Wallacavage, Alex "EaseOne" Pesante, Amy Sol, Amanda Erlinger, Amanda Visell, Andrew Hem, Andrew Schoultz, Annie Owens, Anthony Ausgang, Bob Dob, Bosko Hrnjak, Brad Woodfin, Brandi Milne, Brandon Boyd, Brian M. Viveros, Buff Monster, Bwana Spoons, Camilla D'Errico, Camille Rose Garcia, Casey Weldon, Chantal Menard, Chet Zar, Chris Mars, Christine Wu, Colin Christian, Damien Echols, Dan Quintana, Dave Kinsey, David Stoupakis, Deirdre Sullivan-Beeman, Elisabeth Anisimow, Eric Joyner, Erica Flannes, Frances Bean Cobain, Gillean Clark, Giovanni Morales, Glenn Barr, Greg "Craola" Simkins, Gretchen Lewis, Heidi Taillefer, Isabel Samaras, Jaclyn Presant, Jasmine Worth, Jeff Gillette, Jennybird Alcantara, Jeremiah Ketner, Jerry Misko, Jessica Joslin, Jessicka Addams, Joe Ledbetter, Joe Vaux, John Brophy, Josh Keyes, Juan Muniz, Keith Weesner, Kukula, Laurie Hassold,  Lindsey Way, Lori Nelson, Lorri Davis, Luke Chueh, Mab Graves, Martin Wittfooth, Matt Dangler, Menton3, Michelle Valigura, Mike Leavitt, Mike Stilkey, Naoto Hattori, Nicomi Nix Turner, Nouar, Panik Collective, Ray Caesar, Redd Walitzki, Ron English, Ryan Alosio, Scott Hove, Scott Musgrove, Selena Wong, Shag, Shepard Fairey, ThankYouX, Tim Biskup, Trav, Travis Louie, Troy Brooks and Zoey Stevens.  
Art fans will have the opportunity to purchase these original pieces and have them shipped from the festival to the location of their choice. Pieces will range from approximately $100 to $50,000. In addition, there will be two pop-up stores, The Shag Store and M Modern Store, where festival goers can purchase pieces as well.  
Tickets for the fourth annual Life is Beautiful Music & Art Festival are currently available at LifeisBeautiful.com. General Admission 3-day tickets are available for $285; and VIP 3-day tickets are available for $655.  
For more information on Life is Beautiful Music & Arts Festival, please visit
www.lifeisbeautiful.com